Browsers
Comments Off

on Web of Trust (WOT): People-driven Internet Security
---
| | |
| --- | --- |
| | --- |
Web of trust is an interesting add-on for Firefox whose goal is to advice you against those websites which try to cheat and scam you with artful fake pages. It also reports if a website contains spyware, malware, spam and other threats which could be installed on your computer without your permission. But how does it work? The main idea behind Web of Trust is quite simple but very effective. As a matter of fact, its strength is based upon people using it who report if a website is secure or not once they visit it. No third party company to rely on, no expensive software nor update to buy. Everything is done by surfers who, by using this wonderful free application, come together to create the most powerful anti-pestware community ever made! Deborah Salmi working at Web of Trust wrote me this interesting article to let me and all Web Talk's readers know more about the add-on.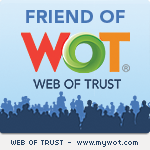 People-driven security, an approach that lets individual Internet users join forces in the battle against online threats, is gaining momentum. Web of Trust, a free browser security tool, combines the collective power of millions of human eyes with data from automated blacklist services to keep your computer safe from spyware, adware, spam, viruses, browser exploits, unreliable online shops, phishing and other Internet scams.
As you search with Google, Yahoo!, Gmail, Wikipedia, Mahalo, Digg, del.icio.us, AOL, MSN and others, you will see a tiny icon beside the link—green for go, yellow for proceed with caution and red for stop. WOT has data for over 18 million websites, and the reputation database is updated every thirty minutes, so information is fresh.
The Website Reputation Scorecard lets you see the reasons for a website's ratings. It supplies data on popularity, a WHOIS link, detailed rating information with graphics that mirror the add-on's rating popup, and a section for comments and references.
WOT has an impressive 4.5/5.0 star user rating on CNET and is a recommended add-on for Firefox. It also works on Internet Explorer. Watch the demo, anddownload WOT today.
Thanks to Francesco for supporting Web of Trust.
Deborah Salmi
Related Articles
Latest Articles
.
18 queries. 0.333 sec.
Best screen resolution 1280x800 or higher.
Web Talk is best viewed in
Firefox
.